Any mega app outside China? Yes, the answer is Yandex, the main Russia-based tech giant. Launched in early 90's as software company, Yandex is now a multinational corporation providing Internet-related products and services, including transportation, search and information services, e-commerce, navigation, mobile applications, and online advertising. They provide over 70 services, and from fintech to e-commerce, from online banking to search engine, if we would like compare Yandex, we could assume that the company is like Alibaba: a mega app with huge and integrated ecosystem.
What's very interesting for us is its e-commerce business that now has grown at the point to challenge Alibaba itself on Russian soil. In 2002 the company officially launched Yandex.Market, offering books, films, cosmetics, footwear, clothing, stationery, and toys from 150 e-commerce sites. In November 2018, the tech giant unleashed an online marketplace and e-commerce platform called Beru ("I'll take it") that offered shoppers purchases from multiple categories on one platform. What about cross-border? Together with Beru, Yandex decided to put online Bringly, an e-commerce platform dedicated to give a boost to cross-border shopping for Russian consumers. Bringly offers Russian customers an opportunity to buy goods from several countries, including the United Kingdom, Germany and Turkey. At the moment of the launch of these two platforms, Yandex featured over 1,000 retailers and 600 shopping categories from household appliances to cosmetics. At that time Maxim Grishakov, CEO of Yandex.Market said to media that "the Russian e-commerce market is still developing and has incredible potential for both domestic goods and cross-border sales".
Numbers are big in Russia, but despite its huge potential, this market is often seen as non-priority or less important for big Western companies. Many in the West view Russia as struggling under economic sanctions, nontransparent legislation, a high rate of poor consumers and an undeveloped business culture. These are stereotypes. Does e-commerce in Russia has little future? This is incorrect. According to data, in 2019 Russia boasts the largest online audience in Europe. Moreover 95.8% of Internet users in Russia shop online, and the percentage of those who buy on foreign websites is growing, plus Russian consumers have a deep interest in foreign goods and that online shopping is increasing even in the furthest corners of this vast country.
Asian companies, AliExpress as first, are firmly established on the Russian market, and now Western retail giants are arriving, having recognized that there is a solvent audience eager to buy a diverse range of quality goods online. Analysts from Statista underlined that today "the biggest player on the Russian online retail market are Yandex.Market and Beru, with 18% of the market value share as of 2019. By 2023, it was expected to comprise one-quarter of the market value. Ozon ranked second on the list with 9% of the retail market share in 2018 and with an estimated increment by 6% in 2023. Accelerated growth was forecasted for Aliexpress Russia which was projected to gain 10% of market share by 2023 relative to the 2018 levels".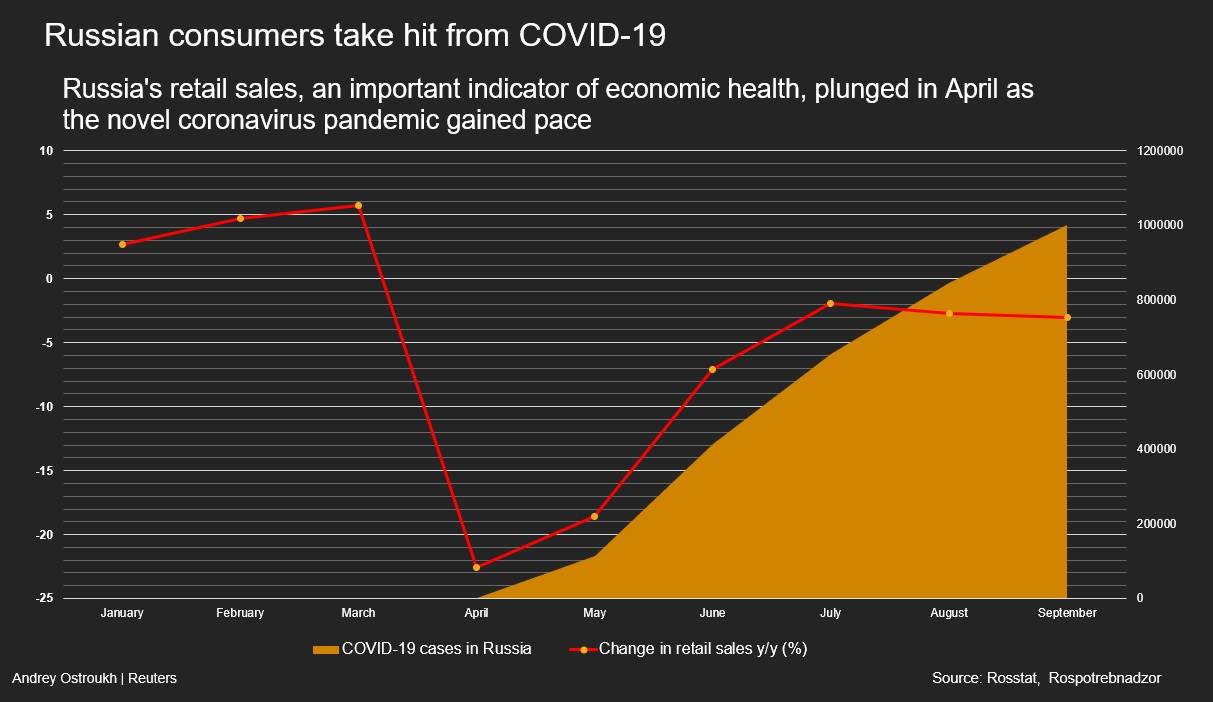 Despite the pandemic outbreak, Russian e-commerce is still inside its accelerated development cycle. For example the crisis has helped fuel a surge in online shopping in Russia that has put even the remote icy expanse of Chukotka on the e-commerce map, as recently Reuters said. E-commerce accounted for just 1.4% of Russia's economy in 2019, according to research firm Data Insight, compared with 2.6% in the United States and 5.1% in China. "The Russian e-commerce market is growing significantly faster than in the United States or in the largest EU countries, thanks to the low penetration base effect," Data Insight co-founder Boris Ovchinnikov told Reuters. Analysts from market research firm Euromonitor expect annual online sales in Russia to grow by more than 40% this year to around 2.5 trillion roubles and by 10-15% a year over the next five years. Yandex for example has registered an exponential increase in online food between March-April 2020. In May alone the demand for Italian wine tripled (+216%). In particular, Italian wine searches on Russia's largest search engine rose from 10,750 in May 2019 to 34,074 in May 2020.
Nowadays, Russia has a well developed fintech ecosystem and is marked by enormous online shopping demand. Russian users expect a convenient, seamless and visually pleasing payment experience too. And that is valuable not only for purchasers, but for merchants as well. As a result, a Western company has every chance of identifying a niche and expanding its business in Russia painlessly and profitably.