Leveraging digital marketing is essential for e-commerce sites, but site-search can be critical for driving conversion and for ensuring that your site's visitors have a pleasant search experience. This, in turn, drives loyalty and return customers. According to the survey, a small majority (39%) of the respondents indicated level 3 of satisfaction, expressing moderate satisfaction. This matches what we'd expect given the high number of responding companies who reported that they'd focus on improving or implementing new site-search technology on an earlier question.
Only 4% claim to have the highest satisfaction with their site-search, and 27% more indicated that they are satisfied with their search. This suggests that most companies sense a healthy room for improvement at the very least, either because of perceived loss in conversion or customer complaints,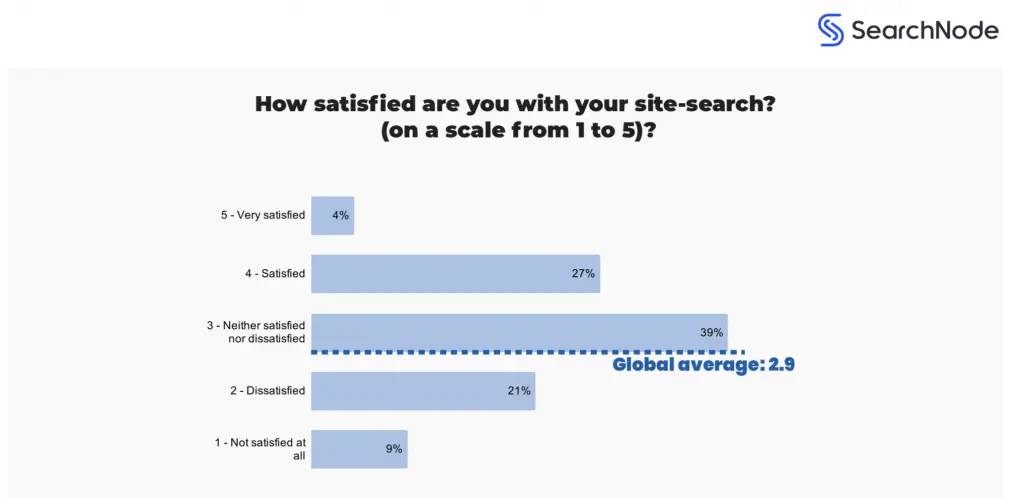 On the flip side, 30% in total are not satisfied at all or not really satisfied with their site-search infrastructure. This drove the overall average for all respondents to a mean score of 2.9 out of 5, underlined the survey. What is interesting. 50% built their site-search in-house while 44% use site-search technology or solution developed from the outside. These two answers comprised the vast majority of responses, said Searchnode. Between these, we can guess that a fair amount of both is not satisfactory for the respondents.
Very few respondents gave other answers, with the next highest oddly being those who lacked a site-search functionality at all – 4%. This is strange because visitors who use site-search technologies in some capacity generate 30-60% of all revenues. Those companies that don't have site-search functionality are likely missing out on significant profits.

To dive deeper into the data, Searchnode examined the response spread among the companies from those who used in-house search technology and 3rd-party providers separately. Overall, third-party users were actually more satisfied than in-house search users by a significant amount, with a mean satisfaction rating of 3.2 out of 5 compared to a mean satisfaction rating of 2.7 out of 5 for those with in-house site-search technologies. This means that many in-house site-search functions are in need of improvement, along with plenty of third-party providers' technologies.
In summary, it appears that most e-commerce companies have more difficulties with site-search they make themselves as opposed to trusting third-party providers or architects. Companies who build site-search in-house can experience many difficulties from finding qualified enough people to build the search to maintaining infrastructure, said Searchnode. On the contrary, third-party users may have some issues as those solutions could lack autonomy and flexibility, or don't have some key features that they may require for their business. Besides, third-party site-search solutions are not always very scalable, which can be essential for growth.