In worldwide imagination what represents the future is surely robotics. Since we were kids, movies and cartoons set in the future show Artificial Intelligence (AI) in the form of robots living among humans. Even if we still think it as a sci-fi scenario, during past two years China demonstrated that we are more close to this futuristic image than we might think.
The robotics industry in China is one of the biggest in the world. People's Republic currently ranks 23rd worldwide in robot density (the number of robots per 10 000 workers). Their rank is bound to increase during the next few years. In fact, the sale of industrial robots in China accounted for 35.6 % of the global sales in 2017, according to data. 
Western countries still have difficulties to understand how PRC "Great Leap" in the hi-tech sector is changing the world but the great Asian power, for its part, is becoming the next hi-tech pole and to dominate the world of robotics.
Is not a surprise that one of the fastest developing industries in China is the logistics industry, and automation is the name of the game. Not only robots work in the warehouses helping to build a modern distribution market, but they could also be used to deliver goods directly to customers' homes.
Autonomous mobile robots and automated guided vehicles (AGV) used in logistics applications are expected to enjoy a massive growth in the next years. To illustrate, sales are expected to exceed $3 billion by 2022.  In the latest years, logistics had to face two challenges: a fast growth of online retail and the decrease of the available workforce. 
In this environment, the industry found in automation the perfect tool to grow the business and to optimize the operations. Since Cainiao, Alibaba's logistics arm, opened its Future Park, the biggest automated warehouse in China, the company (and whole e-commerce sector) placed itself at the forefront of the logistics industry. Part of a broader Future Park, the 160,000-square meter complex is run by the Internet of Things applications, big data, edge computing, and artificial intelligence. 
Cainiao, and other PRC-based e-commerce and logistics companies, already implemented their warehouses with AGV and AI. According to Alibaba, robotic arms and more than 500 self-charging AGVs robots "are expected to reduce staff walking by an average 50,000 steps per working day, improving personnel efficiency by 30%". In the meanwhile other online retailer such as Beijing-based e-commerce platform JD or Pinduoduo are also investing in autonomous-delivery robots.
STO Express, one of the largest delivery companies in China, developed a smart warehouse with a fleet of more than 300 robots. These robots have allowed them to reduce the use of manpower by 70% and increased their efficiency by 30%. One of STOs goals is to use this technology across warehouses in China, especially in their bigger centers. Currently, STO has not announced any plans to expand abroad. Today this trend is imitated by Western giant too.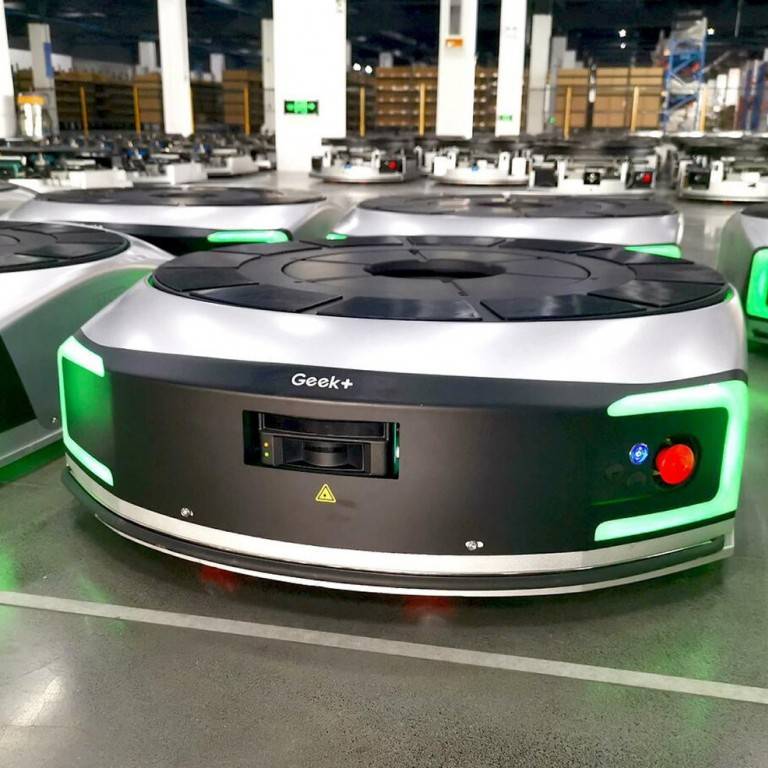 Chinese companies are investing overseas in logosctics sector. Chinese robots will soon be seen roaming a number of warehouse floors across North America. According to media, Geek+, a well-funded Chinese robotics company that specializes in logistics automation for factories, warehouses and supply chains, furthers its expansion in North America after striking a strategic partnership with Conveyco, an order fulfillment and distribution center system integrator with operations across the continent. The partnership will bring Geek+'s autonomous mobile robots, or ARMs, to Conveyco's clients in retail, ecommerce, omnichannel and logistics across North America.
Beijing-based Geek+ so far operates 10,000 robots worldwide and employs some 800 employees, with offices in China, Germany, the U.K, the U.S., Japan, Hong Kong and Singapore. Some of its clients include Nike, Decathlon, Walmart and Dell. A tangible example how China is boosting international logistics sector. 
What's next? As we adjust to life with the new coronavirus around us, our behaviours and habits are quickly changing. As people around the world are blocked from leaving their homes, consumers are moving online to do their shopping. Not only in China where e-commerce is  a daily life constant, but everywhere around the world.
Anyway, products and services will need to be delivered and ever since the coronavirus outbreak, multiple delivery platforms have now proceeded with contactless delivery services. With news of delivery riders getting infected, such innovations and measures are necessary due to keep the safety of both riders and customers. China was once again the forerunner of this tendency.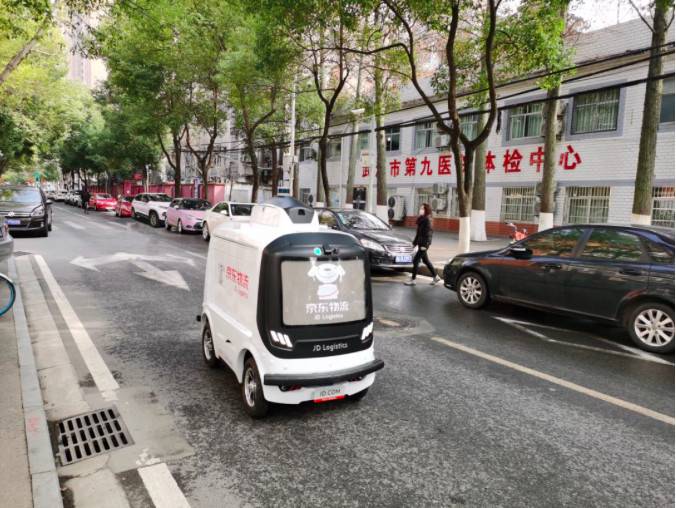 Delivery platforms like Meituan and Eleme have rolled out the "contactless delivery" feature that prevents direct contact between drivers and customers. JD.com used unmanned vehicles to deliver food and medical supplies in Wuhan while Cainiao launched the Green Channel initiative on January 25 in response to the increased demand for protective clothing and medical supplies, especially for front-line medical staff in Hubei province. Western providers are following the same path. UK food delivery app Deliveroo has launched a "no-contact drop-off service". This provides restaurants with additional packaging and seals for orders to be left on customers' doorsteps.
Robotics changed the whole logistics game. In China even small companies already implemented its warehouses with AGV and AI. In fact, in the latest years, logistics had to face two challenges: a fast growth of online retail and the decrease of the available workforce. And now keep the safety of both riders and customers. In this environment, the industry found in automation the perfect tool to grow the business and to optimize the operations.